For over 13 years I've been working on the real estate market of Siena, with the same passion for both prestige properties and modest first homes, for every type of property and location. My personal goal is to always fulfill the dreams of my clients, sharing with each one of them every single step of the procedure and searching the most appropriate way to reach their goal.
BEHIND ANY DIFFICULTY HIDES AN OPPORTUNITY'!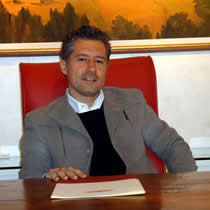 In those years where economic crisis has reduced the standard of living and the purchasing power of all of us, never seen purchase conditions are to be created! In 2007 a period of booming real etsate business, leading to sometimes incomprehensible property valuations around the Sienese territory, came to an end and now the market is returning to more sustainable values. For people looking to buy a home in some cases we can even
speak of truly unique purchase possibilities!
START BUSINESS ACTIVITY
On the first of June 2007 Real Estate Agency DIMORE SENESI opened her doors in Castelnuovo Berardenga (SI) in Via Garibaldi, by initiative of the only owner Riccardo Leoncini.
Previous experience in this field:
2003 Employee at Real Estate Agency Houses and Castles owned by Judith Lanyi

2004-2007 Associate administrator of the real estate agency Houses and Castles snc
A NEW WAY TO WORK AS A REAL ESTATE AGENCY
The real estate agency Dimore Senesi interpretates a highly innovative professional relationship by providing a personalized service to each customer and situation.
The seller meets in Dimore Senesi a consultant to the sale with whom to agree, based on its commercial sensitivity, exposure modes, Publications or absolutely confidential proposals of their property to the chosen target.
The only goal is to close the sale with a few well-selected visits, in the shortest possible time, eliminating all unnecessary exposure and appointments..
EFFICIENT WEB MARKETING AND QUALITY IMAGE
For the growing importance of the web in the real estate market and to assure a powerful and effective positioning on planet internet, we are present in almost all the major property portals and in the front row with our corporate well vsited and allways up to date website.
High-quality images and accurate descriptions are the basis of all our presentations and the means of communication by which we establish the first contact with potential buyers.
REAL ESTATE INFORMATIONS:
Sede: via Garibaldi, 1, 53019, Castelnuovo Berardenga (SI)
Partita Iva: 01212190522
Codice Fiscale: LNCRCR70B27I726J
Data Fondazione: 1 Giugno 2007
Ruolo degli Agenti d'Affari in Mediazione: iscritto presso C.C.I.A.A. di Siena al n. 588
REA: iscrizione presso C.C.I.A.A. di Siena al numero 129609